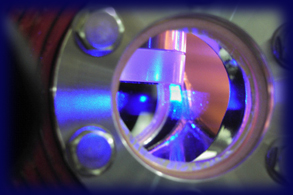 Photo : Strontium atoms, cooled and trapped in a magneto-optical trap. In the center of the frame, laser fluorescence from 10 million atoms cooled in a few mK is observed.

(1) Laser cooling and trapping of neutral atoms
(2) High precision spectroscopy with optical lattice clock
(3) Coherent atom manipulation on Stark atom chip
(4) Quantum computing with ultracold atom
Through the interaction between atoms and laser radiation, atomic gas can be cooled down to ultracold temperatures, where the inherent and quantum nature of atoms strongly manifests itself. Using this laser cooled atomic sample, we explore the fundamentals of quantum mechanics and, more importantly, pursue to increase our ability to fully manipulate and control atoms.